Top 5 Challenges Solved by Adobe Experience Manager in Digital Marketing
Top 5 Challenges Solved by Adobe Experience Manager
in Digital Marketing
In today's digital landscape, businesses face numerous challenges when managing their online presence and delivering personalized experiences to their customers. Adobe Experience Manager (AEM), an industry-leading content management system, has emerged as a powerful solution for addressing these challenges head-on. In this blog post, we will explore the top five challenges AEM solves in s in digital marketing, highlighting how Munvo, as an Adobe partner, can leverage our extensive knowledge to help you maximize the potential of AEM.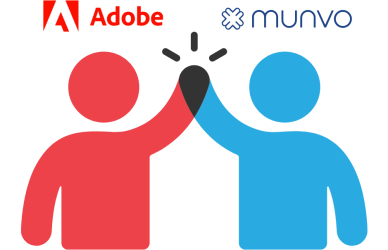 1. Content Management Simplified
One of the most significant challenges for digital marketers is managing and delivering content across multiple channels. AEM provides a centralized platform that streamlines content creation, organization, and distribution. With its intuitive interface, marketers can easily collaborate, create personalized experiences, and manage content variations effortlessly. Munvo, as an Adobe partner, can guide clients in leveraging AEM's robust content management capabilities to optimize their digital marketing efforts.
2. Seamless Multi-Channel Delivery
Delivering a consistent and personalized experience across various channels, such as websites, mobile apps, and social media platforms, is vital for success in digital marketing. AEM enables marketers to seamlessly publish and manage content across multiple channels from a single platform. This unified approach ensures brand consistency, reduces duplication of effort, and enhances customer engagement. Munvo's expertise in AEM empowers clients to capitalize on its multi-channel delivery capabilities for effective digital marketing campaigns.
3. Personalization and Targeting
Digital marketers strive to deliver personalized experiences that resonate with individual customers. AEM's powerful personalization and targeting features enable marketers to create dynamic, contextually relevant content that engages users at every touchpoint. By leveraging customer data, AEM allows for real-time personalization, ensuring the right content reaches the right audience. Munvo's proficiency in AEM can help clients develop targeted strategies and implement advanced personalization techniques to enhance customer satisfaction and drive conversions.
4. Enhanced Digital Asset Management
The efficient management of digital assets, such as images, videos, and documents, is crucial for maintaining brand consistency and delivering engaging experiences. AEM offers robust digital asset management capabilities, allowing marketers to organize, search, and repurpose assets effortlessly. With Munvo's expertise, clients can leverage AEM's advanced DAM functionalities to streamline asset workflows, optimize storage, and ensure seamless asset distribution across channels.
5. Scalability and Integration
As businesses grow, scalability and integration become key challenges in digital marketing. AEM's flexible architecture and extensive integration capabilities make it a scalable solution that can adapt to evolving business needs. With Munvo's deep understanding of AEM's integration capabilities, we can help clients seamlessly integrate AEM with other marketing technologies, CRM systems, analytics platforms, and more. This enables comprehensive data-driven marketing strategies and provides a unified view of customer interactions across the entire digital ecosystem.
Adobe Experience Manager is a game-changer in the field of digital marketing, addressing critical challenges faced by businesses today. As an Adobe partner, Munvo possesses the expertise and knowledge required to help clients unlock the full potential of AEM. By leveraging AEM's content management, multi-channel delivery, personalization, digital asset management, scalability, and integration features, businesses can optimize their digital marketing efforts and deliver exceptional experiences to their customers.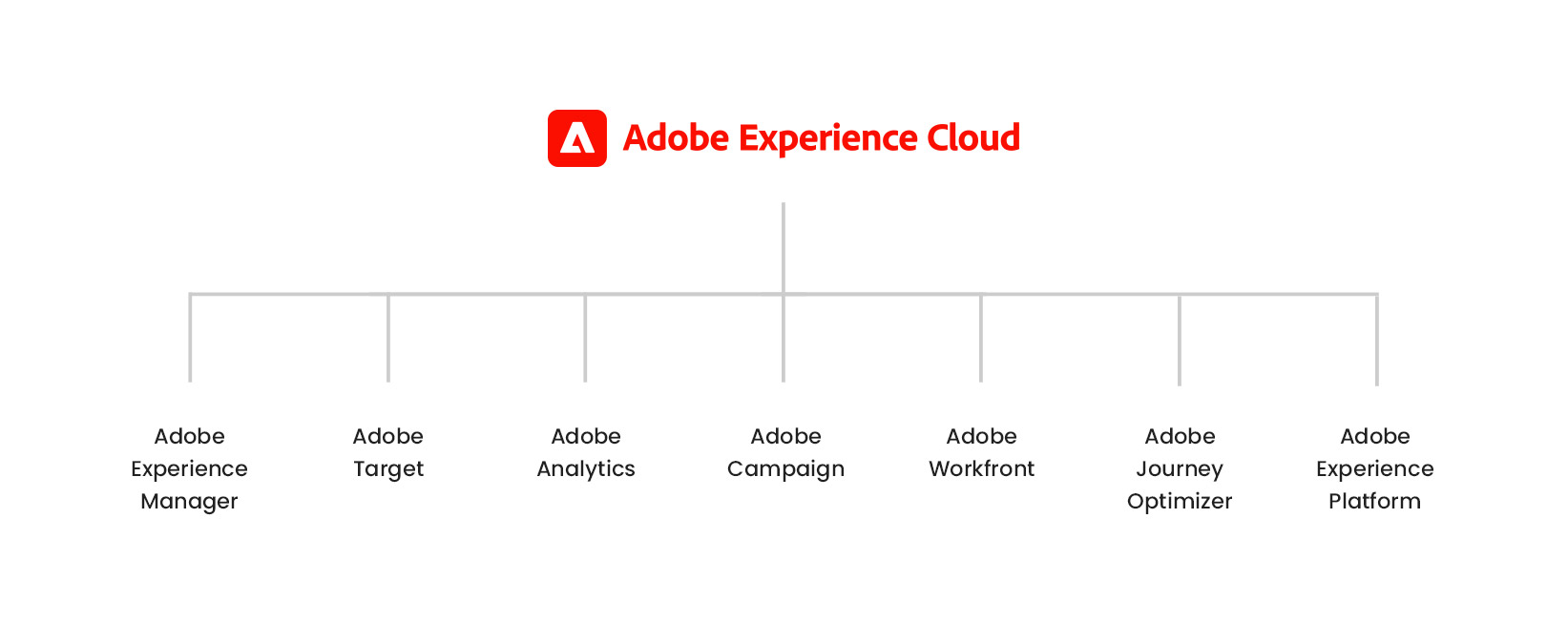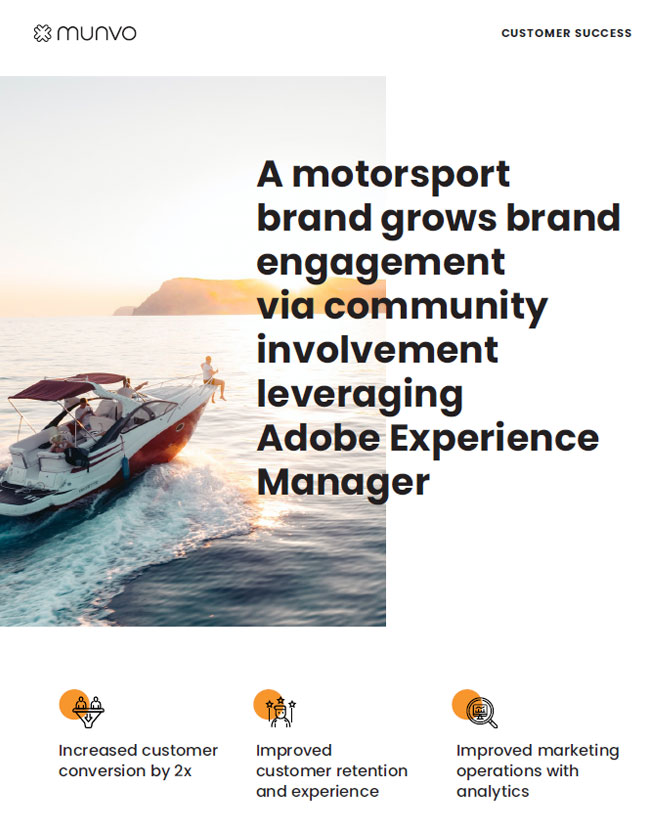 Explore how we empowered a motorsport brand to enhance brand engagement using Adobe Experience Manager
Discover how Munvo revolutionized a global NGO's operations by optimizing their existing AEM installation, leading to significant operational efficiencies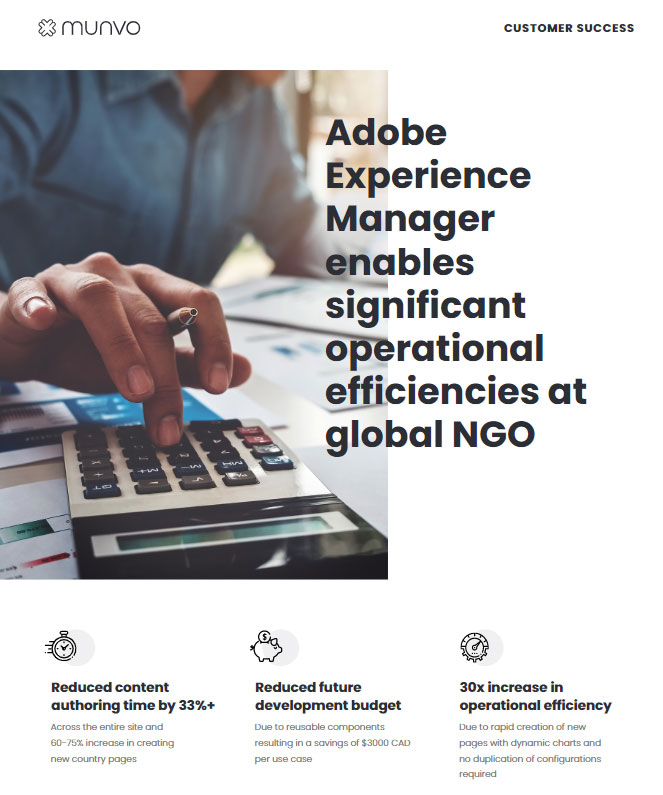 Contact Munvo to embark on a journey towards digital marketing excellence with Adobe Experience Manager.
Sales Inquiries + 1 (514) 223 3648
General Inquiries + 1 (514) 392 9822
sales@munvo.com
© 2023 Munvo is a trademark of Munvo Solutions Inc.
---