What does Customer Centricity mean in 2023?
What does Customer Centricity mean in 2023?
Are you curious about the concept of customer centricity and unsure if your organization has effectively implemented it? As a CMO, Senior Marketer, or MarTech owner, it can be challenging to gauge the impact of your efforts on achieving company-wide goals. But is prioritizing the customer truly crucial and if so, how can you effectively make it happen?.
According to a study by Deloitte, businesses that prioritize their customers are 60% more profitable than their counterparts. Recently, Salesforce found that 73% of consumers expect companies to understand their individual needs and preferences. Every interaction a customer has with your brand – from their initial engagement with your product or service to their interactions with customer service, or even when they recommend you to their friends – can impact your bottom line. But customers want control over their interactions and to make decisions on their own terms. So, it is important to excel in every interaction, whether that be through marketing, customer service, invoicing, or supply chain.
What is Customer Centricity?
Customer-centricity is the ability of an organization to understand and anticipate customer needs, perceptions, and expectations, with the customer at the center of all decisions related to product, service, and experience delivery.
83% of customers say they're more loyal to companies that provide consistency across departments. Customers are the lifeblood of any business, and it's important to provide them with a consistent and positive experience from start to finish. This means that every point of interaction a customer has with your brand or organization should be designed with their needs in mind. By catering to their preferences, modes of communication, and needs, customers may become loyal advocates and repeat buyers.
Benefits in adopting a customer centric marketing strategy
Embracing a customer-centric approach to business can yield numerous benefits that can positively impact your organization's bottom line. Some of the key advantages include:
1. Increased ROI and sustainability: According to Harvard Business Review, customer centricity can lead to higher customer retention rates (5-10%) and increased profit margins (25-95%). Focusing on nurturing existing relationships and fostering customer loyalty is essential for growth.
2. Enhanced consumer trust and loyalty, and improved brand reputation: As stated by the Huffington Post, only 1 out of 26 unhappy customers will complain, while the rest will simply leave. Consistently delivering on promises and providing a positive experience will foster trust in your brand and lead to higher levels of customer satisfaction and lifetime value.
3. Competitive edge: Providing a superior experience can set your brand apart and make it top-of-mind for customers, giving you an advantage over competitors.
4. Increased employee satisfaction: By breaking down silos and working cross-functionally to achieve common goals, reducing handovers between teams, and utilizing technology to automate repetitive tasks, organizations can streamline projects, improve clarity, and reduce confusion, friction, and stress.
How Do You Shift To Customer Centricity?
For maximum success, a customer-centric mentality should permeate throughout all departments and be championed by leadership. Without buy-in from the highest level, it can be challenging to have a unified understanding of what drives customer purchasing decisions (i.e. revenue). However, as a marketer, there is nothing stopping you from utilizing the appropriate tools to deliver personalized experiences.
Visualizing Your Customers' Journey
For marketing, creating a personalized customer experience at each stage of the journey is crucial for building and maintaining customer relationships. But how do you map out the customer journey? The first step is to have a deep understanding of your customer data, including personas, and how it shapes their journey. To help you envision the initial customer experience, the Sales Loop illustrates the experience in a phased approach, starting from the point when the customer is unaware of their need for your product or service, to when they become a loyal advocate for your brand.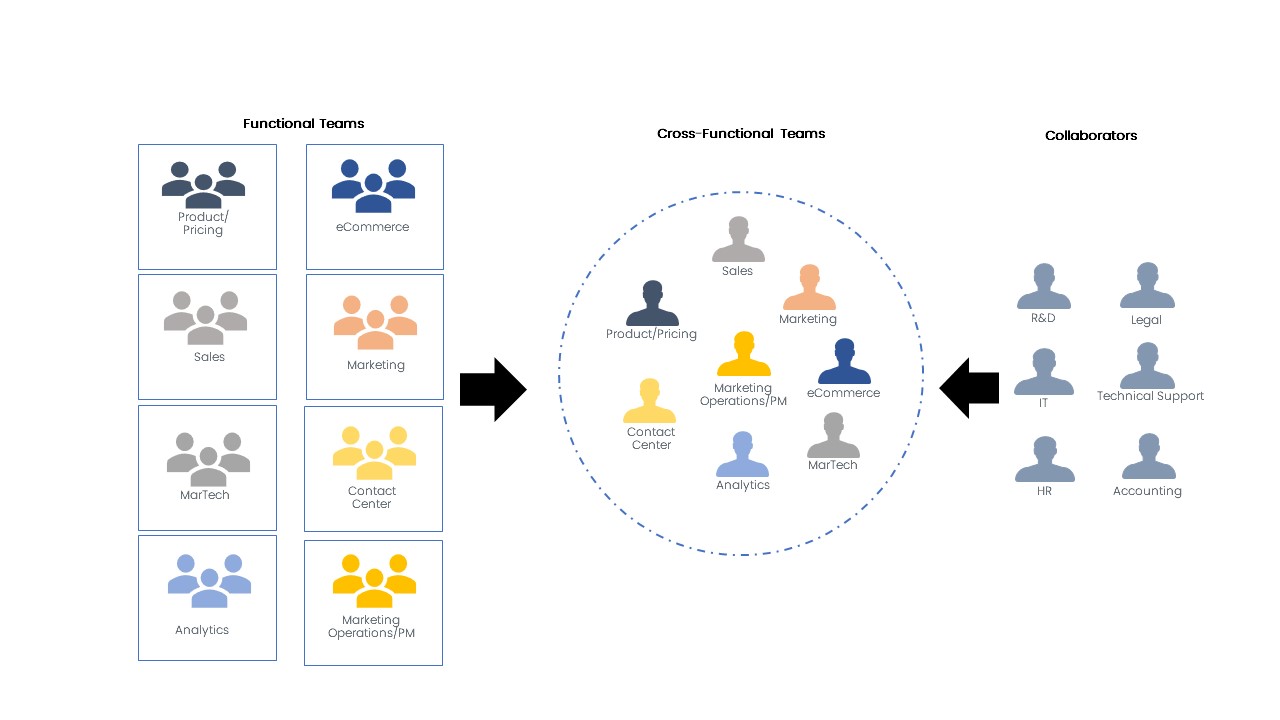 The
Sales Loop
is based on The Loop
TM
, a registered trademark of The Pedowitz Group.
Rather than tracking leads and conversions through a traditional AIDA (awareness, interest, decision, action) funnel view that is in theory limited to acquisition data, the Sales Loop enables key departments to view the flow of data between acquisition and retention phases of the customers' experience.
Customers may pop in and out of phases within the loop; when using the right technology, marketers can measure, predict and track common behaviors to

enhance

basic journeys into hyper-personalized micro-segmented experiences across all touchpoints.
Marketers can enhance the customer journey by working closely with other departments and sharing data using common collaboration tools. By aligning on common business objectives, sub-teams within marketing, sales, and other departments can explore "light" agile methods of working. Even if it is not formally adopted as an official model, this

cross-functional approach

can be a key driver for improving ROI.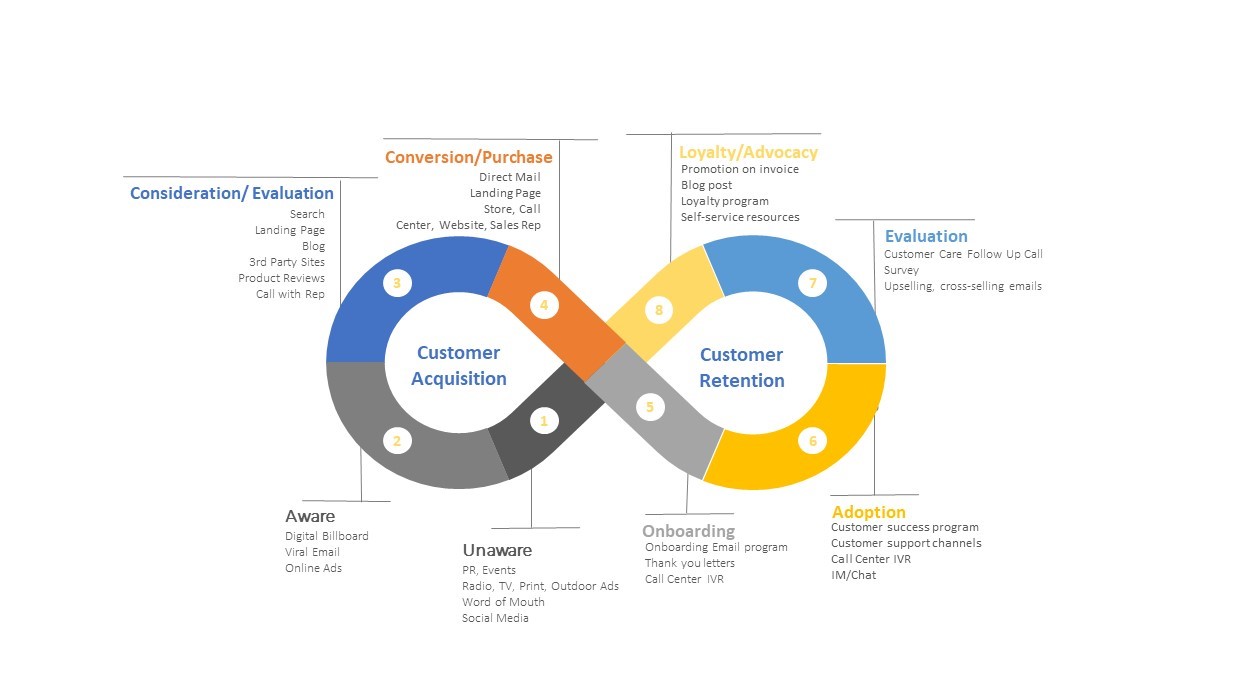 Using The Right Technology
Marketers can drive growth by continuously enhancing journeys or experiences through various capabilities, such as automation, customer identification unification, omnichannel engagement, real-time marketing, lead scoring and nurturing, personalization, predictive analysis, AI/ML, and more.
These capabilities are often enabled through MarTech solutions from partners such as Adobe, ActionIQ, Unica (HCL), Salesforce, PEGA or SAS and are a key resource for proactive marketers looking to create personalized experiences. For instance, using these tools, marketers can:
1. Build the sales loop: A Customer Relationship Management (CRM) system is technology that manages prospect/customer relationships and interactions, in other words a tool that organizes the data you collect. It helps build the sales loop to keep you connected to customers, streamline processes, and improve profitability.
2. Unify and know your customers better: A Customer Data Platform (CDP) unifies your customer data across disparate systems to create a single view of your customer profile in real-time. Marketers can use this data to further understand their customers' behaviors to create unique audience segments and update these segments in real-time.
3. Craft hyper-personalized journeys and automate repetitive tasks: Deploy communications through multiple channels and automate repetitive tasks with a marketing automation tool. Leverage social listening tools via social media channels, personalize your website based on known visitor attributes, nurture relationships with drip campaigns, send real-time messages based on interactions with the brand are just a few examples of how this tool can support customer centric strategies.
4. Make smarter Decisions: View analytics and reporting insights with customized dashboards. Establish clear KPIs at the beginning of a project to make smarter decisions and determine your next course of action to improve overall acquisition and retention strategies. Then, leverage and build upon MarTech capabilities such as AI/ML pre-built models to predict and influence customer behaviors in real-time, optimize engagement with personalized content, and drive loyalty based on what customers truly expect of your brand.
These are just a few examples of how technology can help marketers develop customer centric programs and drive sales. Contact Munvo to learn more about how to leverage such capabilities that may be available to you through your current MarTech stack.
Are you struggling to get the most out of Salesforce Marketing Cloud? Do you feel like you're not getting the support you need? This webinar is for you!
Munvo can help you build customer-centric marketing programs using your existing MarTech stack and identify gaps in your ability to reach your goals. Our Strategic & Project-Based Consulting offering within our Marketing Operations (MO) practice will help assess your existing processes, people, and systems and develop a tangible plan to get you to your goal.
If you're ready to investigate Customer Centricity for your business in 2023, book a free consultation.
Sales Inquiries + 1 (514) 223 3648
General Inquiries + 1 (514) 392 9822
sales@munvo.com
© 2023 Munvo is a trademark of Munvo Solutions Inc.
---