How to enhance your members' healthcare experience and engagement in a digital-first world
How to enhance your members' healthcare experience and engagement in a digital-first world
Healthcare payers are facing a shifting consumer landscape that will require investment in digital technologies to better service them on digital platforms. Members now expect to be able to access services and receive personalized care and communications through digital channels.
Meeting this new customer demand can be even more challenging for healthcare firms operating in a highly regulated space. How can you better serve your members and elicit improved health outcomes using digital technologies?
The driving force to changes in patients'/members' healthcare experience
The pandemic has accelerated a change in consumer behaviours including the move to digital and automated channels. Particularly in the healthcare industry, it's affecting individuals across all demographics, not just digitally native generations.
According to one healthcare insurer we work with, digital channel reliance among seniors has increase past 50% during the pandemic from less than 5% prior. According to another study done by the Wall Street Journal, 85% of consumers that have relied more on digital channels during the pandemic will continue to do so. Additionally, 70% of seniors with internet access are searching for health information online.
This burst in digital consumption is shaping what patients and members expect of their healthcare experience. They want personalized, relevant interactions, at the right time, on the channel that is most convenient for them.
"Experience becomes an equal part of the cost and quality equation" Alex Maiersperger, Senior Industry Consultant, SAS Health
Healthcare payers and providers to adapt to this shift in digital engagement
Digital engagement through curated member journeys and omni-channel orchestration are becoming critical to the patient/member experience. To offer personalized experiences and improve member/patient outcomes, healthcare payers and providers must adapt to the changing ways of the digital interaction landscape and look at ways to automate and deliver services through new digital channels.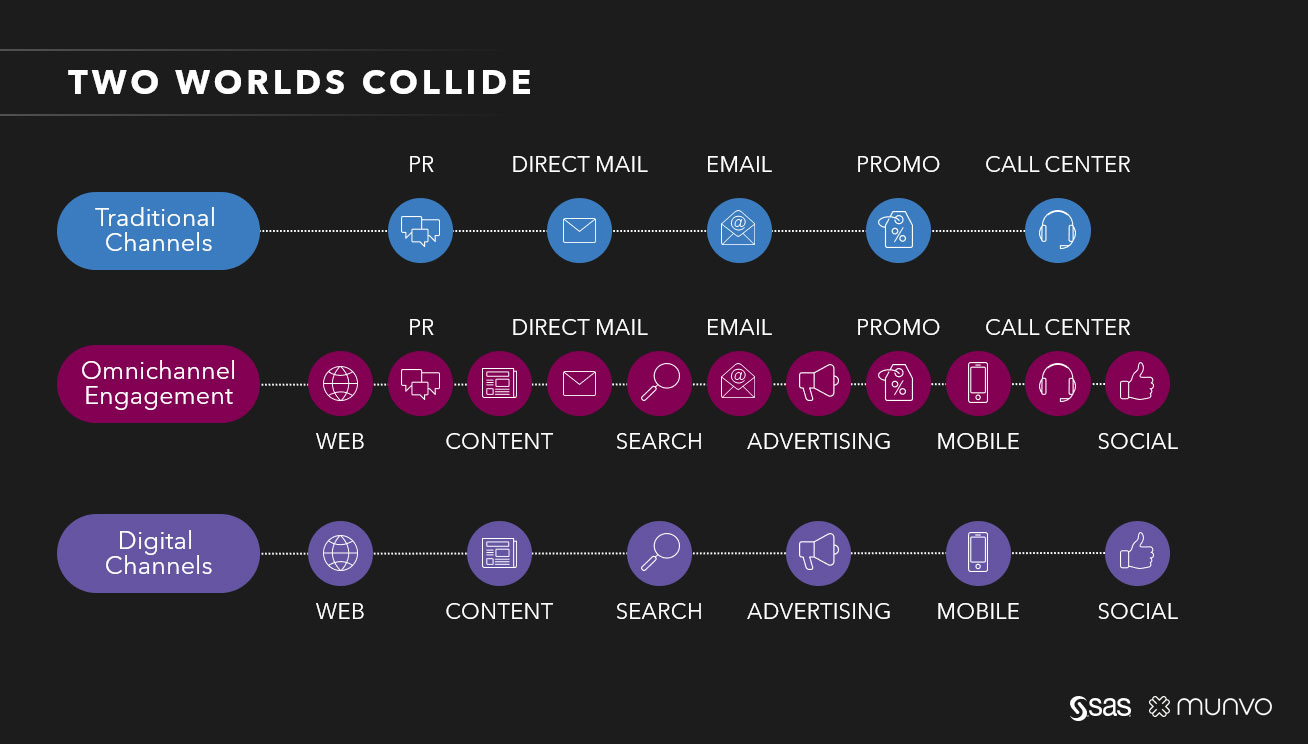 This requires a system which allows a 360-customer view able to consolidate digital channel data with offline channel data into one customer profile, able to resolve multiple identities into one unified profile and activate this data across channels.
How healthcare industry leaders are successfully engaging with their members
With patients and members expecting digitization, personalization, and timeliness, it has become necessary for healthcare providers to accelerate consumer-facing technologies and invest in customer intelligence. They've adopted marketing strategies such as interactive co-pay, SMS communication, and marketing automation.
Engagement strategies have brought to the forefront the need to have integrated systems that allow companies to:
Integrate and fully use digital channels: web, mobile apps, SMS
Securely capture digital data and combine with patient/member data into one 360-degree profile
Correctly identify members across those channels
The ability to interact with members in real-time in a way that smoothly integrates with their daily lives – conversational marketing
Conversational marketing is an extension of real-time marketing, where you are not only providing an offer in real-time but receive a reply from the patient or member and can react to that message. The best channel for this kind of interaction is SMS. According to a Twilio study, SMS marketing has open rates as high as 90% and response rates as high as 45%.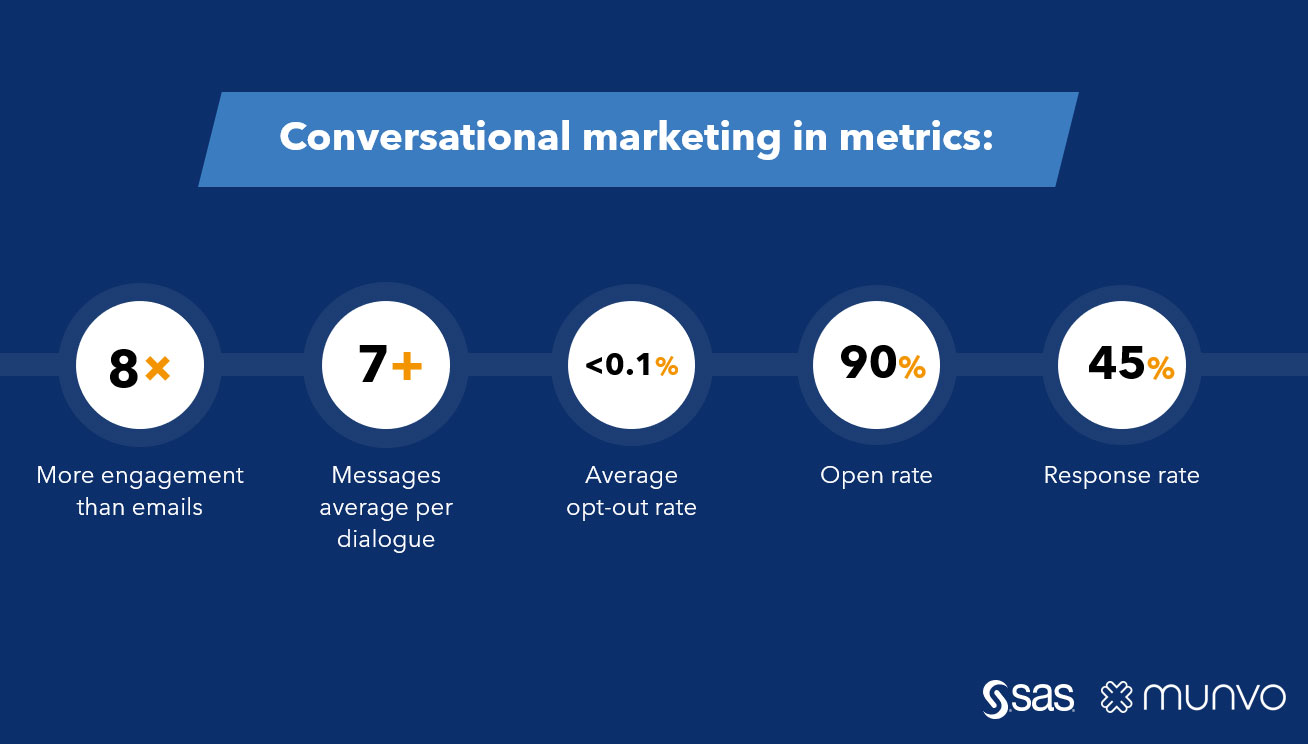 SMS Gateway for SAS CI (Customer Intelligence) 360
Incorporate SMS into your omnichannel marketing strategy and initiate personalized, real-time conversations with your patients/members with Munvo's SMS Gateway. SMS Gateway, a user-driven, no-code solution can help you combine the bi-directional and conversational nature of SMS with the rich data and intelligence of SAS CI to:
Provide real-time services to your patients and members, and value-added communications
Send actionable reminders to enable patients and members to complete quick and easy multi-step actions including filling prescriptions, check-in process and more
Make digital enrollment and onboarding an easy process and follow up where appropriate with reminders of unused benefits
"Meaningful engagement means being able to have an actual conversation with members and patients which can be carried across channels… This kind of communication is highly engaging" Anna Ivanova, Senior Director, Munvo's SAS Practice
How to better serve your patients and members through digital channels:
Strategy:


      a. Consider the pain points of your member/patient experience
      b. Consider the manual processes and delays in your patient/member experience
      c. Consider how you can automate and reduce wait times for customers by digitizing            certain aspects of the customer experience

Identify the capabilities you need to implement that strategy
Data and analytics: break down data siloes and enable data activation
Implement the right technology: a tech stack that allows orchestration of data and journeys across software and channels like SAS CI 360, and tools for conversational real-time dialogue with clients on high-engagement channels like SMS Gateway
Watch the on-demand webinar to learn more about how to enhance your members' healthcare experience and engagement in a digital-first world
Sales Inquiries + 1 (514) 223 3648
General Inquiries + 1 (514) 392 9822
sales@munvo.com
© 2023 Munvo is a trademark of Munvo Solutions Inc.
---