Munvo's SMS Gateway Wins Excellence in Innovation Award at 2021 SAS Global Forum
Munvo's SMS Gateway wins Excellence in Innovation Award at 2021 SAS Global Forum
Munvo is proud to be recognized for the transformative value that we bring to our partners and clients with our 15+ years of experience and innovation delivering products and services in the MarTech space. As a SAS Gold Partner with CI Specialization, we are excited about the value that SAS CI 360 brings to businesses and we are thrilled to bring the capabilities of bi-directional SMS to CI 360 users.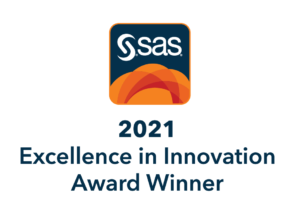 The Excellence in Innovation award recognizes a partner's own solution complementary to SAS software that demonstrates outstanding innovation to uniquely solve a complex customer business problem. This year's award was decided among five finalists, chosen from among over 1400 SAS partners worldwide.
The power of customer intelligence combined with conversational marketing
Munvo's SMS Gateway© facilitates a conversational engagement between businesses and their customers through real-time, mobile messaging. It allows marketers to combine the bi-directional and conversational nature of SMS with the rich data and intelligence of SAS CI to:
Capture customer context with CI 360 and immediately reach the customer through SMS – according to research*, 82% of consumers keep SMS notifications switched on.
Focus on conversations, not push notifications, for higher levels of engagement:

Use the rich data from CI 360 with the SMS Gateway to easily personalize messages, send MMS, or enable real-time fulfillment.
Define actions on message replies either from CI 360 or form the easy SMS Gateway interactive conversation trees.
*Authenticity Gap Research, Twilio & Lawless Research, March 2019
The Excellence in Innovation Award is a crowning moment of recognition for the SMS Gateway, created in collaboration with Munvo's development team and our SAS services team, and a great recognition of the value Munvo adds to our clients and to our partners. As Anna Ivanova, SAS Practice Lead, says: 
SAS Customer Intelligence Consulting
Munvo empowers your business to leverage SAS Customer Intelligence (CI) 360 and 6.X for the delivery of personalized communications across your customer journey.
With Munvo's 15 years of experience, our SAS-certified specialists have in-depth campaign management knowledge and experience with SAS CI implementation, campaign design and execution, marketing transformation roadmaps, and more.  
In addition to earning the SAS Customer Intelligence Specialization badge, Munvo is also a SAS Gold Partner.
Please fill out this form to download a white paper with use cases and more information. We'll be in touch with you to arrange a call to understand your unique needs.
All fields marked * are required
Sales Inquiries + 1 (514) 223 3648
General Inquiries + 1 (514) 392 9822
sales@munvo.com
© 2023 Munvo is a trademark of Munvo Solutions Inc.
---