4 Key Takeaways for Marketers from SAS Innovate 2022
4 Key Takeaways for Marketers from SAS Innovate 2022
SAS Innovate on Tour took place in several cities worldwide this summer and fall, providing global insights with a local perspective.  As a SAS Focus Partner in customer intelligence and
winner of the 2021 Excellence in Innovation award from SAS
, Munvo was invited to participate in SAS Innovate at the Globe and Mail Center in Toronto in September 2022 and provide our perspective on Digital Transformation and the Customer Journey.  Our experts watched the trends and summarised the key takeaways for marketers we want to share with our clients.
4 Key Takeaways for Marketers from SAS Innovate 2022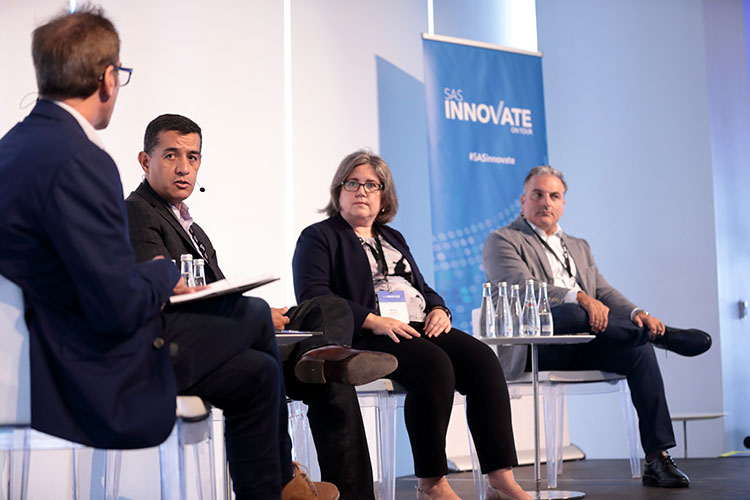 1. Digital Transformation and the Customer Journey
SAS Innovate hosted a panel discussion on digital transformation and the customer experience. Munvo's VP of SAS Services, Anna Ivanova, Sun Life Financial' s AVP of CXO Strategy, Enablement and Core Client Platforms, Andre Martines, and digital transformation veteran and Managing Partner of Ettorre & Associates, Achille Ettorre, shared examples of successful digital transformation journeys which helped organizations stay ahead of the competition and provide personalized experiences to improve customer loyalty and business profitability.
Drawing from Munvo's many years of experience in the field of marketing and customer intelligence, Anna shared examples of how we have
helped clients leverage digital channels and real-time SMS dialogue to dramatically improve access to critical medication and increase engagement
. We then outlined key factors of success for drawing the maximum return from digital transformation projects. While having the right technology is important, setting objectives, measuring progress, and transforming marketing operations to align strategy, technology, data, people, and process has been key to the success of our clients.
2. Success in the Face of Disruption

Over the past couple of years, the world is facing an unprecedented rate of disruption in every sphere of life and business – from need for remote access to services through supply chain shortages to shifting consumer landscapes to increased uncertainty in B2B financing. SAS Innovate presented customer case studies showing first-hand how cloud technology and AI can help companies make better decisions in response to these disruptions. With SAS Viya, Intelligent decisioning and omni-channel engagement with CI 360, enterprises and leveraging partner expertise, enterprises have found ways to better serve their customers, increase profits and reduce risk.
3. The Future of Real-Time Decisioning for Marketing

Enterprise decisioning engines have come a long way and are able to truly transform the way a company interacts with customers. Modern decisioning systems go beyond rules-based decisioning to leverage machine learning and AI to enable hyper personalized messaging and next-best-action decisioning. When implementing a decisioning system, marketers need to consider capabilities and scale across the whole decisioning ecosystem – from data ingestion capabilities and a marketer-friendly environment for designing decisions, through a scalable way to incorporate analytics and machine learning, through flexible deployment capabilities and monitoring and governance to ensure that they continue to get maximum performance on their offers.
4. Responsible Innovation in the Age of AI

In an age when a growing number of decisions are taken by algorithms and AI, the importance of building trust in the technology and data behind it is critical. Artificial intelligence and machine learning can be powerful tools in a marketer's toolbox and help build and activate attribution and retention models, hyper-personalisation, and smart customer journeys. However, upcoming legislation and the need for both regulatory compliance and building trust in consumers, means that organisations will have to enact ethical and transparent data practices. Enterprises rely more and more on platforms like SAS to provide an environment where data can be ingested, stored, processed, consumed and disposed of in an ethical and compliant way.
Maximize your marketing investment with SAS and Munvo
Interested how to leverage these trends to
boost your marketing transformation with SAS and Munvo
and maximise the value of your investment in SAS Customer Intelligence and Intelligent Decisioning products?
Having over 17 years of campaign management experience, Munvo's SAS-certified specialists have the in-depth knowledge and experience to help you with all aspects of a successful campaign – from planning and conception to execution and optimization.
Book a meeting with us or alternatively you can simply contact us.
Sales Inquiries + 1 (514) 223 3648
General Inquiries + 1 (514) 392 9822
sales@munvo.com
© 2022 Munvo is a trademark of Munvo Solutions Inc.
---