Personalization for your Mobile Marketing Practice
Personalization for your Mobile Marketing Practice
Enhancing Communications with Munvo's SMS Gateways
The 'mobile-first' mentality has permeated all facets of marketing operations, such as website-building, ecommerce via mobile applications, and the ongoing growth of digital wallets. Smartphones now dictate the way that businesses market themselves and personalize their branded communications. As such, it is crucial to connect with the customers whose handheld devices seldom leave their side.
According to Gartner, SMS open and response rates remain as high as 98% and 45%, respectively, compared to figures of only 20% and 6% for email. For this reason, Munvo developed the SMS Gateway, a flexible software that serves to facilitate intuitive mobile dialogue between businesses and their targeted consumers in near-real time.
With the SMS Gateway, you can convey relevant information and remain in close contact with a set of current or prospective customers. The product's main features – from its connectors and conversation trees to messaging templates and MMS options – fortify the power of advanced personalization at a speed and capacity that is unprecedented. In this article, we will demonstrate how our team has harnessed this innovative product to support businesses in the pursuit of personalized marketing campaigns.
Find out how Munvo's SMS Gateway refines mobile marketing practices across all industries to:
Personalize Customer Check-Ins and Travel Offers
Traveling, whether for work or leisure, often requires advanced arrangements that can include lodging, flying, touring, and dining. Travelers want to make the most of their time away – and in the tourism, entertainment, and hospitality industries, their convenience should be your company's first priority. For instance, when an international airline sought to deploy SMS offers to travelers for exclusive packages from partnering hotels, rental companies, and restaurants, the SMS Gateway prompted our client to look back at each customer's previous travel history, before finally directing them to the deals or excursions that best suited their interests.
Geotagging can also be implemented to reach travelers when they enter the terminal of an airport. Once they log on to the airport's free Wi-Fi, the SMS Gateway can initiate a conversation with them via SMS to bring their attention to various promotions. For example, you can solicit customers to purchase roaming data packages from partnering mobile providers. The resulting "Success/Failure" status (based on each customer's response) can then be saved for future reference.
Personalized SMS messaging ensures that customers stay on top of their itinerary, while granting them the flexibility to modify their plans for a more fulfilling experience, hassle-free. Whether traveling on a family vacation, as a corporate group, or backpacking individually, it is vital to get to know your customers' distinct needs, or as another one of Munvo's clients required: to establish communication between their hotel brand and the people checking in. With its ability to form tree-like conversation paths and push lists of SMS numbers to a given short or long code, the SMS Gateway allowed our client to relay key details and limited-time offers to hotel guests; a time-saving initiative that kept them up to date. This information ranged from Wi-Fi passwords, hotel amenities, and room service, to breakfast and pool hours/locations, check-out details, and special event notifications.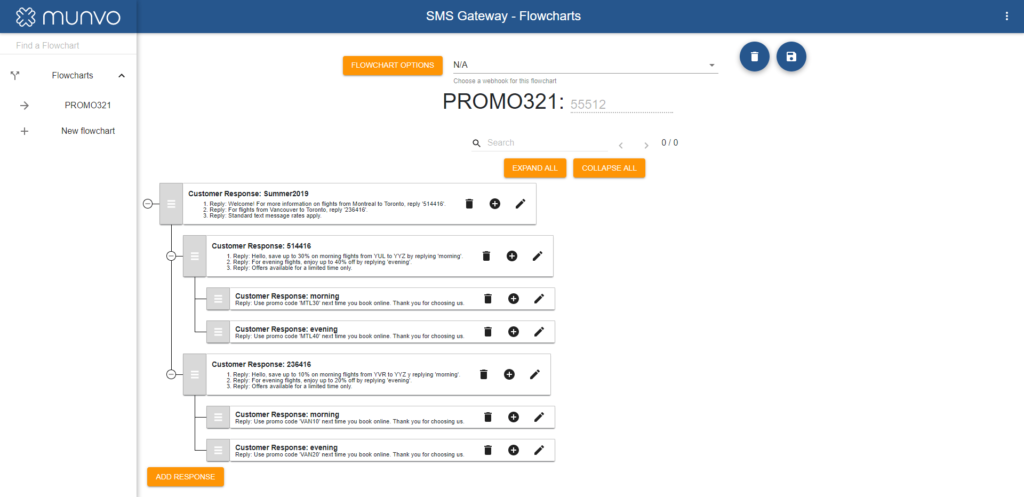 Talk To Our Experts Today
All fields marked * are required
Sales Inquiries + 1 (514) 223 3648
General Inquiries + 1 (514) 392 9822
sales@munvo.com
© 2023 Munvo is a trademark of Munvo Solutions Inc.
---