Head in the Clouds:
Cloud Migration in the Marketing Automation Space
Discover what going to the cloud really entails
Going to the cloud has completely revolutionized the way that businesses operate in the marketing automation space. That's why Munvo's experts have mastered and demystified this seemingly complex process to support fortune 1000 companies with their respective cloud migrations.
Munvo's upcoming webinar, hosted by Ajay Bhaga, will unpack the key considerations and best practices for cloud migration, including:
Ownership costs
Architecture scalability
Security and performance testing
And much more.
Not only will this live event demonstrate the operational advantages of this migration, it will outline a tentative timeline and approach for your possible move to the cloud!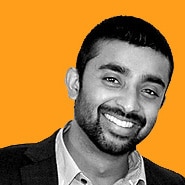 Since joining Munvo in 2008, Ajay has pioneered the delivery of Enterprise Marketing projects across Canada, the US, Europe, and Asia. Ajay facilitates complex deployments that require the integration of multiple technologies, while also significantly contributing to the enhancement of Munvo's cloud-based lab infrastructure.
All fields marked * are required
Sales Inquiries + 1 (514) 223 3648
General Inquiries + 1 (514) 392 9822
sales@munvo.com
© 2022 Munvo is a trademark of Munvo Solutions Inc.
---