Marketing Ecosystem Roadmaps are the focus of enterprises strategically moving toward a unified, customer-centric environment. Our team at Munvo can support your marketing operations through the meticulous planning, organization, and alignment of a personalized, phase-driven marketing roadmap, in accordance with your primary business objectives.
Benefit your Business with a Marketing Ecosystem Roadmap
A roadmap enables organizations to clearly define and understand all the components, technologies, actions, and decisions required to build an effective marketing ecosystem. Most importantly, Munvo can establish this ecosystem so that it both addresses and anticipates current and future business needs.
Design and Planning Phase
Includes: Custom Omni-Channel Framework and Phase-Driven Marketing Maturity Model Assessment
Design, plan, and develop the roadmap to meet key business outcomes.
Define the roadmap building blocks for each phase of the marketing framework.
Measure the roadmap's potential impact within the market.
Find out what Munvo's Marketing Ecosystem Roadmap can do for you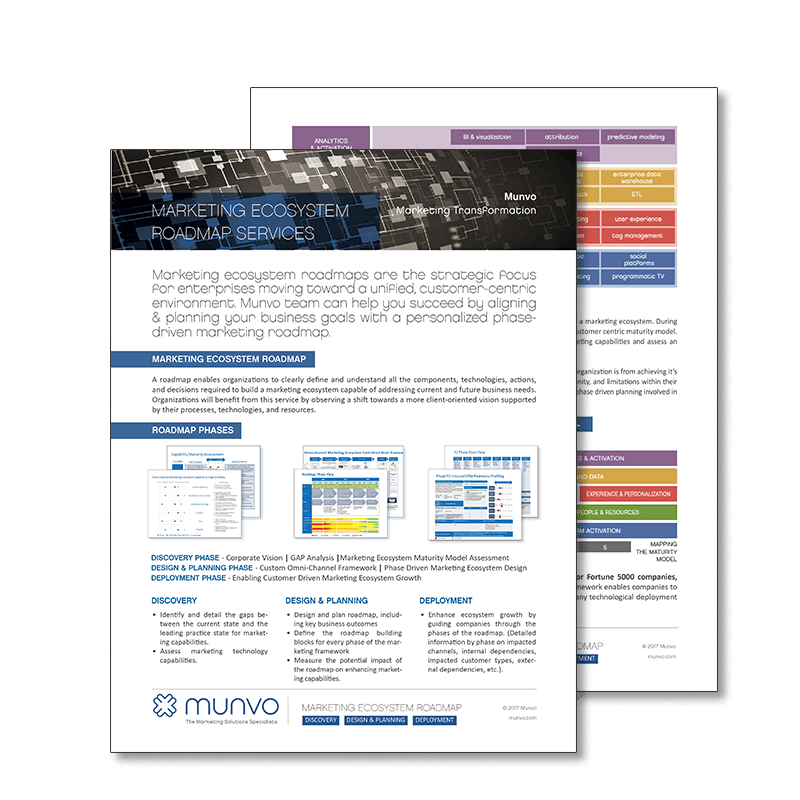 To access our Marketing Ecosystem Roadmap Services PDF, please fill out the form below.
All fields marked * are required
Looking for Expert Advice?
Get in touch with one of our experts today
© 2021 Munvo est une marque de commerce de Munvo Solutions inc. / © 2021 Munvo is a trademark of Munvo Solutions Inc.
---